Tiny Comets activities are available to all children who live in Penn Manor School District who are not yet old enough to attend kindergarten (less than 5 years old on or before Sept. 1 of the school year).
Tiny Comets is not a formal preschool program. Penn Manor School District does not operate its own preschool classes.
To sign up for information about Tiny Comets activities, send an email to brian.wallace@pennmanor.net. If you have any questions, please contact Brian via email or at 872-9500 ext. 2241.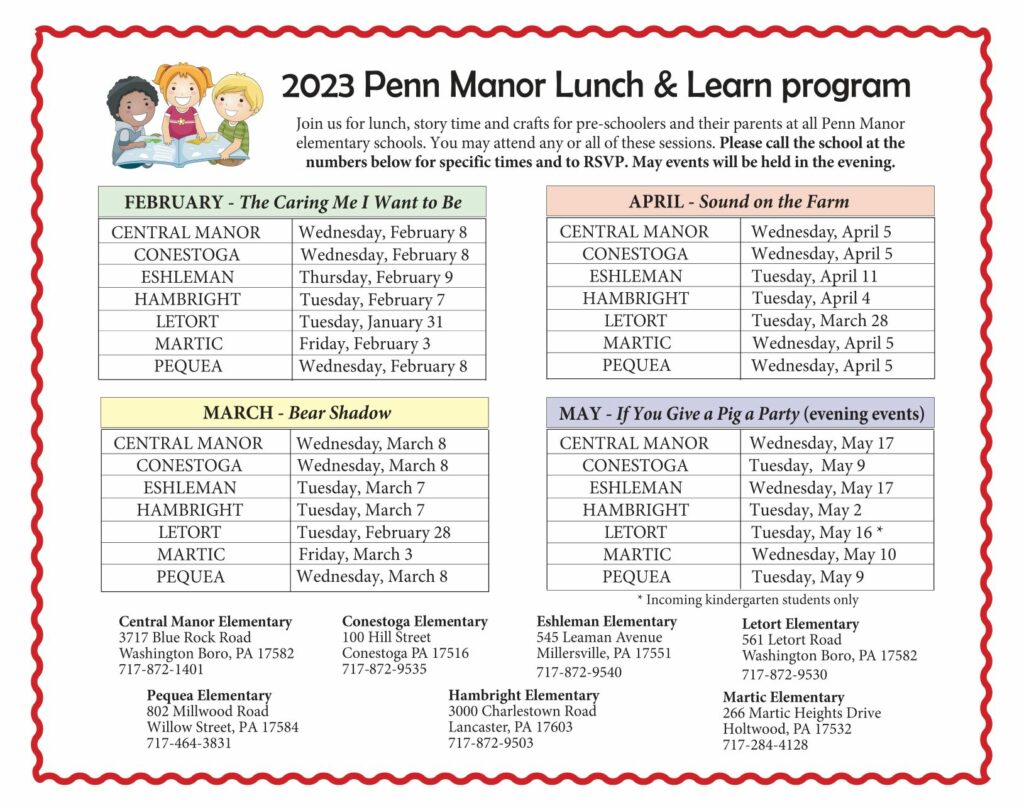 Lunch & Learn program
Beginning in February, each of our seven elementary schools will welcome preschool children and their parents/guardians to story time, crafts, lunch and a visit to the school library to check out books that will be returned the following month.
Lunch & Learn is designed to familiarize future students and their parents with our schools so they become comfortable with the school setting prior to their first day.
Lunch & Learn activities will be held from February through May. The May events will be held in the evening, but all others are over lunchtime. Attached is a printable schedule that includes phone numbers for each school. Please call to reserve a spot and confirm the time of each Lunch & Learn.  Here is a printable schedule.
You may attend at your home school or any other elementary school in Penn Manor. Siblings are welcome, and a parent/guardian must accompany all children.
How to determine if your child is ready for kindergarten
The Community Action Partnership has prepared a helpful resource to assist parents in assessing their child's kindergarten readiness that includes practical exercises. You can view it here.
Here is a guide to early-learning resources for parents.
Kindergarten Readiness
Here are exercises parents can complete with their children to prepare them for kindergarten.
Kindergarten WRAP Around Care
YWCA Lancaster partners with Penn Manor School District to provide an affordable and safe learning environment for elementary students. All programs are licensed by the PA Department of Human Services and participate in Keystone STARS.
YWCA Lancaster offers wrap-around care for AM Kindergarten students from 11:30 a.m. to 3:30 p.m. The YWCA has three WRAP sites: Central Manor and Pequea Elementary Schools and Manor Middle School. Letort and Eshleman Elementary students are bussed to Manor Middle, and Martic and Conestoga Elementary students are bussed to Pequea for WRAP care. Hambright Elementary students walk to Manor Middle School for WRAP care.
If your child is in need of Kindergarten WRAP care, please visit ywcalancaster.org/ywonderfulkids or contact us at ywonderfulkids@ywcalancaster.org.
Parents as Teachers program assists families with young children
The Community Action Partnership of Lancaster is sponsoring a program called Parents As Teachers that provides assistance to families with young children. Families receive personal home visits, child screenings, group connections, parenting workshops and referrals to community resources. You can learn more and sign up here.
Tips for reading to your preschool child
The Junior League of Lancaster has created a video to give parents solid strategies for reading with their preschool aged children. Reading with your child will help ensure that he or she is exposed to great books prior to registering for kindergarten. Click here.
Links and Other Resources
First 10 early childhood resources
Free preschool programs
Lancaster County Preschool directory
Sign up for free books for preschoolers
Kindergarten readiness ENGLISH
kindergarten readiness SPANISH
Kindergarten Readiness Skills Handbook
10 Ways to Help Your Kindergartner
Build the Habit of Good Attendance Early
Born Learning Website
Milestone Website