Tiny Comets is a FREE program offered to all preschool children who live in Penn Manor School District who are not yet age eligible to attend kindergarten (less than 5 years old on or before Sept. 1 of the school year).
Events include a Kindergarten Information Night and Preschool Expo in February and a Lunch & Learn program in the winter and spring that includes a story and craft time, library visit and lunch at Penn Manor elementary schools. To sign up for Tiny Comets, send an email with the names of your children and dates of birth, home address and parents' names to brian.wallace@pennmanor.net .
If you have any questions, please contact Brian Wallace, Community Relations Coordinator, at 872-9500 ext. 2241 or by email at brian.wallace@pennmanor.net.
2018 Elementary Lunch & Learn program runs January through April
Lunch & Learn is a program designed to help preschoolers and their parents transition to kindergarten. The program, which runs from January to April, includes a story and craft time, library visit and lunch for participants ages 3 and older. Starting times vary by school, and programs run for an hour each month at all district elementary schools. Pre-registration is required. Children must be accompanied by an adult, and siblings are welcome.
Here is a printable schedule with all the details, including dates for each school through April 2018: Lunch & Learn 2018 FINAL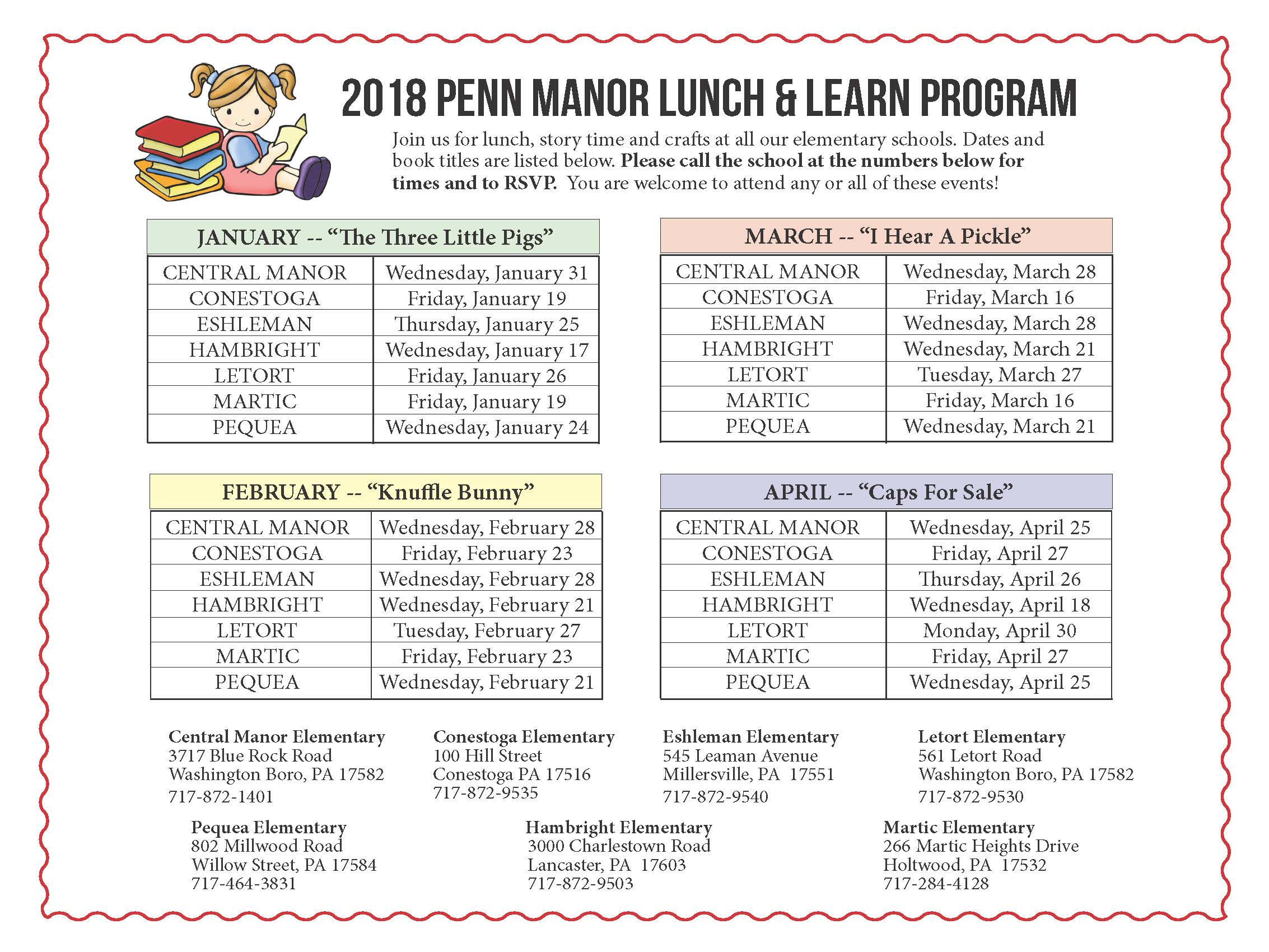 Kindergarten registration has begun for 2018-2019
Online registration is now under way for all new students entering kindergarten for the 2018-2019 school year. A child is eligible to attend if he/she will be 5 years old on or before September 1, 2018.
Registration for new students in upper grades will open in June.
Please note that a child's kindergarten school placement is based on both physical address and class size. You will be notified if your child's assigned building changes after registration.
To begin the kindergarten registration process, please click here.
Tips for reading to your preschool child
The Junior League of Lancaster has created a video to give parents solid strategies for reading with their preschool aged children. Reading with your child will help ensure that he or she is exposed to great books prior to registering for kindergarten. Click here.
Links and Other Resources
Kindergarten readiness ENGLISH
kindergarten readiness SPANISH
Lancaster County Preschool directory
Kindergarten Readiness Skills Handbook
10 Ways to Help Your Kindergartner
Build the Habit of Good Attendance Early
Born Learning Website
Milestone Website