Tiny Comets activities are available to all children who live in Penn Manor School District who are not yet old enough to attend kindergarten (less than 5 years old on or before Sept. 1 of the school year). Events include a Kindergarten Information Night and Preschool Expo at Hambright Elementary School each winter, and a Lunch & Learn program in the winter and spring at all seven Penn Manor elementary schools.
Tiny Comets is not a formal preschool program.
To sign up for information about these activities, send an email to brian.wallace@pennmanor.net. If you have any questions, please contact Brian via email or at 872-9500 ext. 2241.
Lunch & Learn program
    We are pleased to announce that the Lunch & Learn program is returning to all Penn Manor elementary schools.
    Beginning in February, each of our seven schools will welcome preschool children and their parents/guardians to story time, crafts, lunch and a visit to the school library to check out books that will be returned the following month.
    Lunch & Learn is designed to familiarize future students and their parents with our schools so they become comfortable with the school setting prior to their first day.
   Lunch & Learn activities will be held from February through May. The May events will be held in the evening, but all others are over lunchtime. Attached is a printable PDF schedule that includes phone numbers for each school. Please call to reserve a spot and confirm the time of each Lunch & Learn. Here is a printable schedule.
   You may attend at your home school or any other elementary school in Penn Manor. Siblings are welcome, and a parent/guardian must accompany all children.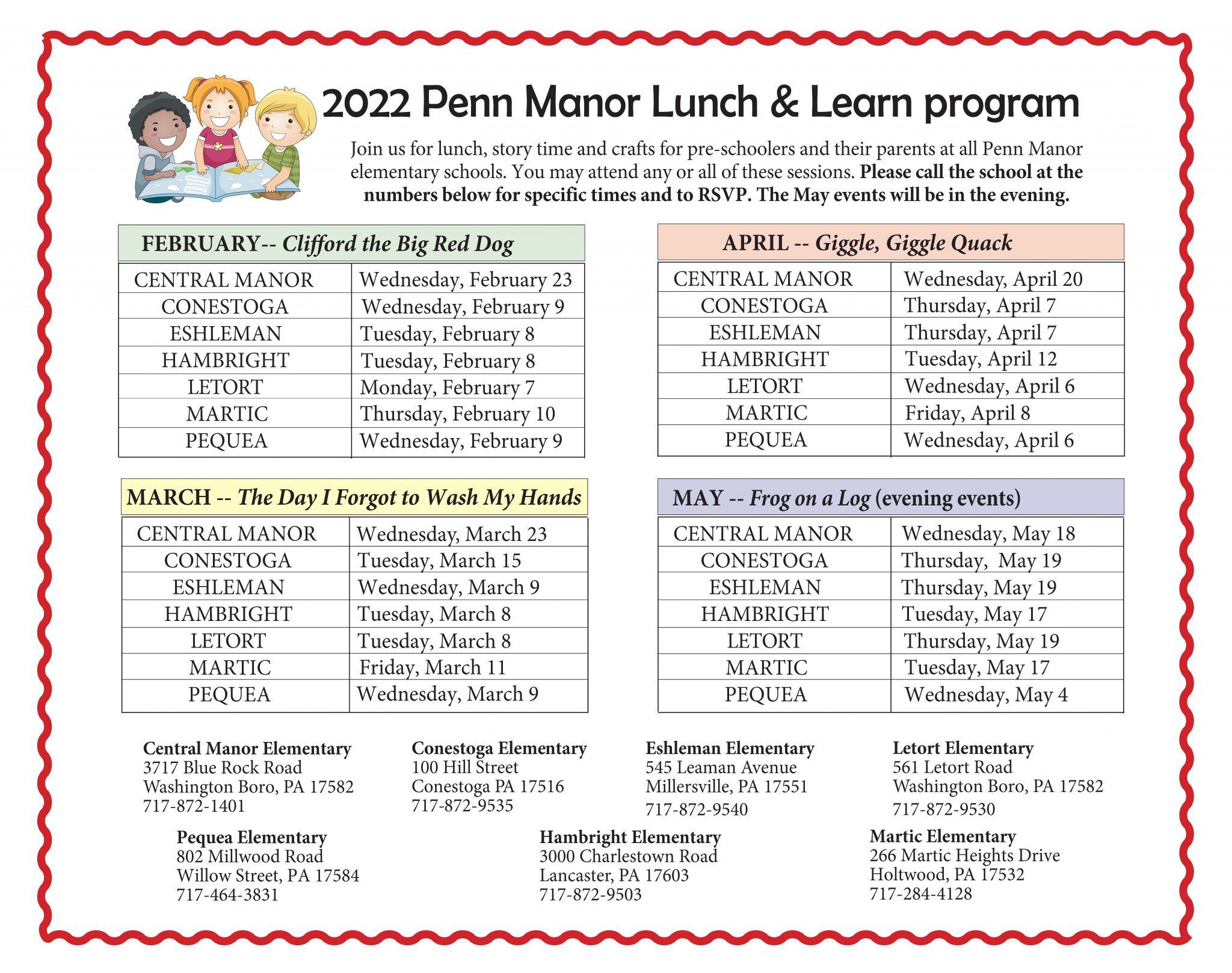 Penn Manor Kindergarten Information
Here is a link to the Kindergarten Information Presentation, which explains Penn Manor's program, introduces our teachers and walks parents through the registration process. Registration for the 2022-2023 school year began January 17, 2022. You can begin the registration process here.
How to determine if your child is ready for kindergarten
The Community Action Partnership has prepared a helpful resource to assist parents in assessing their child's kindergarten readiness that includes practical exercises. You can view it here.
Here is a guide to early-learning resources for parents.
Kindergarten Readiness Portfolio
We encourage all incoming kindergarten students to complete this kindergarten portfolio and return it to school for the 2021-2022 school year. Completing this booklet not only helps children practice for skills they will use in kindergarten, but it also helps them earn a "Kindergarten Crew" T-shirt.
Here are exercises parents can complete with their children to prepare them for completing the portfolio:
Portfolio Practice Part 1   
Portfolio Practice Part 2  
Portfolio Practice Part 3
Free Resource on Child Development, Birth to Age 3
Here is a free resource that provides parents a weekly text message with valuable tips on how to enhance their child's development from birth to age 3. If you are interested, please watch the video and sign up for free educational text messages. This initiative is sponsored by CAP of Lancaster.
Before- and after-school "wrap" programs offered for kindergarten 
An information session on the YWCA Wrap Program for 2022-2023 will be held February 28, 2022. You can learn more here.
If your child is enrolled in the Penn Manor kindergarten program and is in need of "wrap" services, please review the information here and contact Charles Linares at clinares@ywcalancaster.org for more information or an enrollment packet.
Tips for reading to your preschool child
The Junior League of Lancaster has created a video to give parents solid strategies for reading with their preschool aged children. Reading with your child will help ensure that he or she is exposed to great books prior to registering for kindergarten. Click here.
Links and Other Resources
First 10 early childhood resources
Free preschool programs
Lancaster County Preschool directory
Sign up for free books for preschoolers
Kindergarten readiness ENGLISH
kindergarten readiness SPANISH
Kindergarten Readiness Skills Handbook
10 Ways to Help Your Kindergartner
Build the Habit of Good Attendance Early
Born Learning Website
Milestone Website